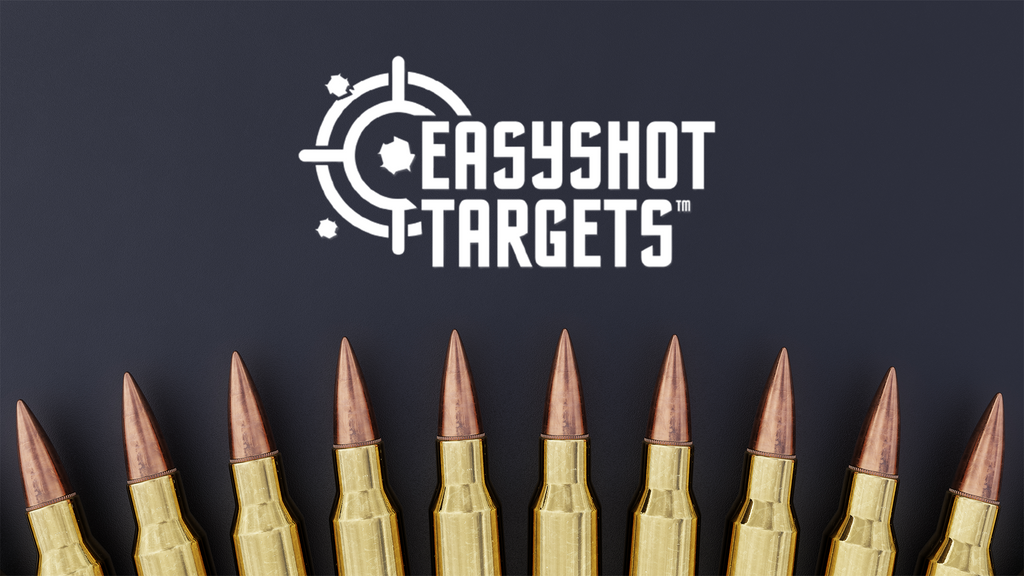 Imagine this: You're standing on the shooting range, the air buzzing with the echoes of discharged rounds, the familiar smell of spent powder lingering in the air. You're not just holding a firearm; you're holding an intricate machine designed with precision, power, and purpose. And integral to this mechanism is a component as vital as the firearm itself - the bullet.
In this comprehensive guide, we'll unwrap the often-underestimated world of bullets, focusing on those designed for target practice, and how each plays a distinct role in defining your shooting experience. Let's get started.
Are Ammunition and Bullets the Same?

Credit: Envato Elements/ jirkaejc
Before getting started with this blog, let's clarify a common misunderstanding in the shooting world "Are ammunition and bullets the same?". It's not uncommon for beginners, and sometimes even experienced shooters, to use the terms "ammunition" and "bullet" interchangeably. However, these two terms represent different concepts in the world of firearms. Let's take a moment to distinguish between them.
A bullet is a part of a whole cartridge or round. It's the projectile, the part that exits the barrel and reaches the target.
Ammunition, on the other hand, is a broader term that refers to the entire package that is loaded into a firearm. This includes not only the bullet but also the casing, the primer, and the propellant. The casing holds everything together, the primer ignites the propellant (or gunpowder), and the ignited propellant generates gas pressure that propels the bullet down the barrel.
So, while all bullets are ammunition, not all ammunition is a bullet. When you purchase a box of "ammunition," you're buying a set of complete cartridges or rounds, ready to be loaded into your firearm. Each round includes a bullet, but it also includes the necessary components to fire that bullet.
Understanding this distinction is crucial, not only for clarity but also to appreciate the complex engineering involved in every single round of ammunition. It reminds us that shooting is not just a physical activity but also a science that combines precision mechanics, chemistry, and physics.
Types of Ammunition: The Different Types of Bullets for Target Shooting
Now that we've clarified this common misunderstanding, let's get back to the blog discussing the various types of bullets suitable for target shooting. Bullets can be of various types including:
1) Full Metal Jacket Bullets

Credit: Envato Elements/ haveseen
When discussing bullets for target practice, the Full Metal Jacket (FMJ) round is where most conversations begin. As the name suggests, these rounds are encased in a shell of copper or another alloy, encasing a soft lead core. This design results in a robust and reliable bullet.
FMJs are a favored choice for military applications due to their consistent performance. They're also commonly used for recreational target shooting and plinking. However, it's worth noting that they can over-penetrate targets, which means they aren't always the best option for busy ranges or where backstops are insufficient. Additionally, the FMJ doesn't provide the highest precision compared to specialty rounds, but for general target shooting, their accuracy and consistency make them a solid choice.
2) Hollow Point Bullets

Credit: Winchester Ammunition
While Hollow Points (HP) are renowned for self-defense and law enforcement due to their rapid expansion upon impact, they are also used in target practice. Specifically, they're quite common in competitive shooting circles where accuracy is paramount.
Unlike FMJs, HPs expand on impact, causing a larger wound channel. This expansion also prevents over-penetration, a desirable trait in crowded environments. However, their cost is significantly higher than FMJs, which could deter casual hobbyists.
3) Jacketed Hollow Point Bullets

Credit: GECO
The Jacketed Hollow Point bullet (JHP) offers a balance between the deep penetration of FMJs and the rapid expansion of traditional hollow points. They are designed with a hollow point encased in a tough outer jacket, typically made of copper. Upon impact, the bullet expands, causing a larger wound channel while the jacket ensures some degree of penetration and structural integrity.
While JHPs are widely recognized for self-defense uses due to their stopping power, they also have a place in target shooting. They're often used in competitive shooting events where both accuracy and visible impact on the target are important.
4) Semi-Jacketed Hollow Point Bullets

Credit: Bankstown Gun Shop
The Semi-Jacketed Hollow Point (SJHP) is a variant of the jacketed bullet. It features a lead tip with a partial copper jacket. This design exposes more of the lead core, leading to more rapid expansion upon impact compared to a fully jacketed hollow point. Like the JHP, it also offers a balance between penetration and expansion.
In terms of target practice, SJHPs can offer a noticeable impact on targets while maintaining an acceptable level of accuracy. However, they are usually more expensive than FMJs, which can be a determining factor for high-volume target shooters.
5) Open Tip Match Bullets

Credit: Accuracy Reloading
Open Tip Match (OTM) rounds are a different breed. They're not designed for expansion like hollow points; rather, their open tip is a byproduct of a manufacturing process focused on ensuring optimal accuracy. The manufacturing process involves pouring the lead core into the jacket from the front, resulting in the "open tip."
OTMs are often the go-to choice for competitive shooters who value accuracy above all else. They do come at a higher price than FMJs, but many marksmen believe the added precision justifies the additional cost. However, if you're considering using OTMs, remember that these rounds require a higher-quality firearm to leverage their potential fully.
6) Frangible Rounds

Credit: Handsgun Magazine
Frangible bullets offer a unique alternative in the ammunition world, designed with safety in mind. These bullets are constructed from compressed metal powders that shatter upon impact, significantly reducing the risk of over-penetration and back splatter. These characteristics make frangible rounds an excellent choice for steel target shooting or indoor ranges where potential ricochet is a concern.
Despite their brittle nature, frangible bullets deliver competitive accuracy. They may be pricier than some other options, but for shooters who prioritize safety and environmental responsibility, these bullets can be a valuable choice.
7) The Balanced Soft Points (SP)

Credit: Thewellman
Soft Point bullets (SP) offer an interesting middle ground between FMJs and HPs. They feature a soft lead tip that expands more slowly upon impact than an HP. While they aren't as commonly used in target shooting as FMJs or HPs, they offer consistent accuracy and less over-penetration, making them a viable alternative.
8) Ballistic Tip

Credit: Brownells Benelux
Ballistic Tip bullets are designed with accuracy in mind. They are similar to hollow points but feature a plastic tip over the lead core. This design enhances the bullet's aerodynamic properties, leading to a flatter trajectory and better accuracy.
Upon impact, the plastic tip drives into the bullet, causing rapid expansion, similar to a hollow point. This makes ballistic tip bullets an excellent choice for target shooting where precision and visible impact on the target are key considerations.
9) Armor Piercing

Credit: Thewellman
Armor Piercing (AP) bullets, commonly used as rifle rounds, are designed to penetrate hard targets. They usually feature a steel or tungsten core encased in a lead and/or copper jacket. While their primary design purpose is for penetrating armored targets, they also find some use in target practice.
In a target shooting context, AP bullets can be useful for engaging hard targets or for competitions where penetration is scored. It's important to note that due to their penetrating capabilities, safety considerations are crucial when using these bullets. They may not be suitable for all shooting ranges, especially those with steel backstops or close neighboring lanes.
10) Boat Tail Bullets

Credit: AmmoforSale.com
Long-range target shooting presents its own set of complexities, and one crucial aspect is the selection of a bullet specifically designed for this purpose. This is where the Boat Tail bullet comes into play. Named for its tapered rear end resembling the shape of a boat, these bullets are meticulously engineered to ensure stability over extended distances. Boat tail bullets are available in various types, including the hollow point boat tail and the full metal jacket boat tail, among others.
The distinguishing tapered shape of boat tail bullets serves to minimize drag, enabling the bullet to maintain a more predictable trajectory and resist wind deflection more effectively compared to other bullet designs. Although the manufacturing process for these bullets is more intricate, resulting in a higher price point, serious long-range target shooters often opt for them due to their unparalleled precision at extended distances.
Summary
Bullets, like the shooters who use them, come in all shapes and sizes. Each bullet type, from the reliable Full Metal Jacket to the precise Open Tip Match, offers unique advantages and potential disadvantages. So, next time you step onto that range, take a moment to appreciate the bullet you load into your firearm, the unsung hero of target practice.
Looking for a way to enhance your target practice even further? Try EasyShot paper shooting targets. With clear, vibrant designs and robust materials, EasyShot ensures you can clearly see where your shots land. Shop with us today.