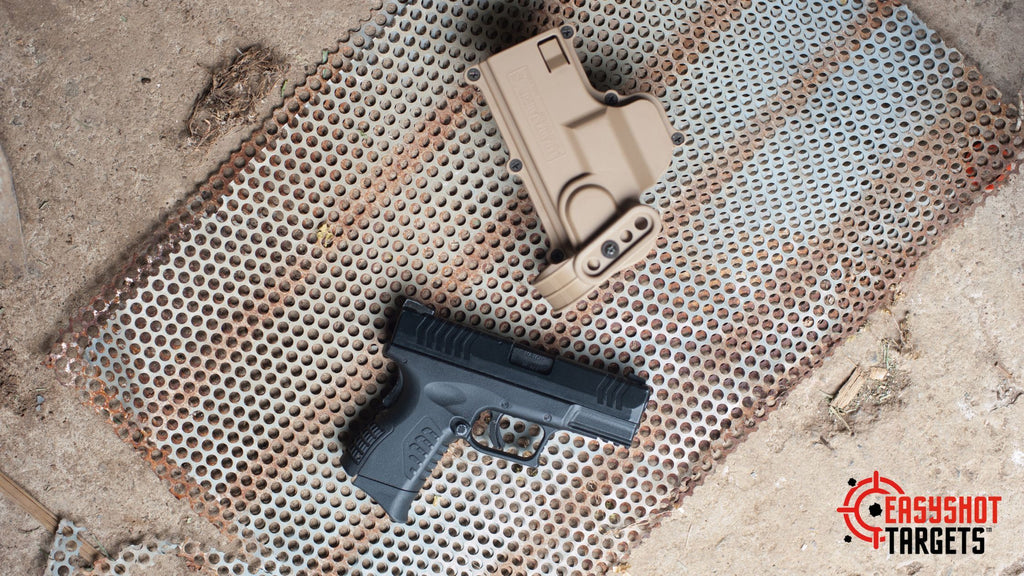 If you have the right holster, you can easily conceal your pistol in a way that is both practical and comfortable. Without the right holster, carrying your pistol could become challenging.
In this guide, we will go through the many holster types that are out there and how to pick the holster that is right for you
What Is a Gun Holster?
Credit: Envato Elements/ indigolotos
A gun holster is an accessory that is designed to enable someone to carry a gun on their body. Holsters are made of a wide range of materials, including rubber, leather, nylon, synthetic materials, and others. Due to the fact that they are frequently created for smaller weapons like pistols and handguns, these products are commonly known as concealed carry holsters or pistol holsters.
Is a Holster Required for Concealed Carry?
Credit: Envato Elements/ eAlisa
Holsters serve three main purposes, especially those that are utilized for concealed carry.
First of all, a holster's responsibility is to ensure that your gun is constantly accessible.
Additionally, a holster keeps your gun safely in place while you're moving around.
Lastly, holsters make it possible to transport your firearm in a secure, comfortable, and practical manner.
To answer your question, while a concealed carry holster may not be a must, it certainly does make life easier and provide safety.
Types of Holsters
Purchasing a concealed carry holster could be frightening with all the options available. It could be challenging to choose which holster is best for you and what each one does. To make things simpler for you, we've listed and defined the various holster types below:
1)  Shoulder Holsters
Credit: Envato Elements/ LightFieldStudios
A shoulder holster has pockets on both sides of the rib and is intended to be worn around the shoulders. It is a comfortable holster to use for carrying weapons of all sizes, even larger ones. But in order to hide the weapon, you would need to wear an oversized jacket or coat.
2)  Belt Holsters
Credit: Envato Elements/ rezkrr
The belt holster is the most traditional way to carry a pistol and has been around almost as long as guns. In order to sustain the weight of a pistol, holster, and additional equipment like extra magazines, belt holsters are intended to fit around a special belt called a gun belt.
3)  Waistband Gun Holsters
While both waistband and belt holsters are worn in the same general area of the body, the way in which each is fastened to the body differs significantly.
Waistline holsters can be of two types:
OWB Holsters
Credit: Envato Elements/ NomadSoul1
Outside-the-waistband or OWB holsters are made to be worn on the outside of the waist; they are often secured with a paddle-shaped attachment. One of the main advantages of using an OWB holster is the speed with which it can be removed.
IWB Holsters
Credit: Envato Elements/ rawf8
An Inside-the-waistband or IWB holster is fastened to your belt or jeans at the waist with a clip. They have the best degree of concealment when worn inside the waistline. IWB holsters can be used to effectively conceal even larger firearms, but smaller weapons often work better.
4)  Pocket Holsters
Credit: Clinger Holsters
A pocket holster allows you to conceal your firearm in your pocket. This holster choice is very helpful because it hides the outline of the gun, safeguards the trigger, and gives you quick access to your weapon.
5)  Ankle Holsters
Credit: Bigfoot Gun Belts
An ankle holster, which is worn on the ankle, is a popular design for carrying backup firearms. These holsters are either universal or custom-molded and are often appropriate for smaller gun types. They are typically worn on the dominant leg to ensure that you can naturally and quickly retrieve the firearm.
6)  Belly Band Holsters
Credit: CrossBreedHolsters
A belly band holster is a broad, elasticized belt with an integrated holster that is made to conceal a pistol under an untucked shirt. You can choose the precise placement of the weapon from just above the belt to rather high on the chest thanks to the variety of forms they come in. Belly band holsters are comfortable to wear but poor for concealment. They must be snug in order to retain the weapon securely in place, which makes them uncomfortable to wear for a lengthy amount of time.
7)  Drop Leg Holsters
Credit: Rico Visuals
Drop leg holsters are held in place by a strap around the thigh that is wrapped around your mid-thigh and suspended from your belt. These holsters don't hold the pistol as tightly as belt-style holsters do, which causes them to bounce around when you're running.
8)  Concealment Bag Holsters
Credit: Envato Elements/ Oleno_Rudo
Not every concealed carry holster demands that you wear it on your body. Concealment bag holsters are made to fit inside regular carrying accessories.
Concealment bag holsters are included in practical carrying bags like:
Concealment bag holsters offer an incredibly high level of concealment. It doesn't draw any attention to your weapon.
9)  Women's Holsters
Even though the majority of holsters are designed primarily for men, here are a few types that are specifically made for women:
Thigh Holsters
Credit: Dene Adams
Thigh holsters are made to be worn like a garter on the thighs and hidden by a dress or skirt. They are positioned in a manner that is very similar to drop-leg holsters. Since they do not protrude as other holsters do, they are made to be worn with form-fitting outfits.
Bra/Chest Holsters
Credit: gunnerssecurity.com
A bra holster places your firearm over your chest either face down or sideways. This kind of holster is the best for women since it is inexpensive and concealable.
How To Select The Best Concealed Carry Holster
Credit: Envato Elements/ vasiliybudarin
It can be challenging to select the ideal handgun holster from all the available options. To choose wisely, follow these suggestions:
Choose the holster position that will feel the most natural on your body.
Depending on your tastes, pick a molded plastic, leather, rubber, or nylon holster. Remember that each holster material has benefits and drawbacks, and your choice should be depending on the situation at hand.
When choosing a holster, keep your reason for carrying in mind.
Summary
The holster you select will ultimately depend on your personal preferences and the circumstances in which you will be carrying your pistol. While you're here, if you're looking for anything relating to weapons, take a look at EasyShot. Without the appropriate shooting targets, no firearms training is complete. We at EasyShot make sure you always have access to the best targets. Shop with us today.