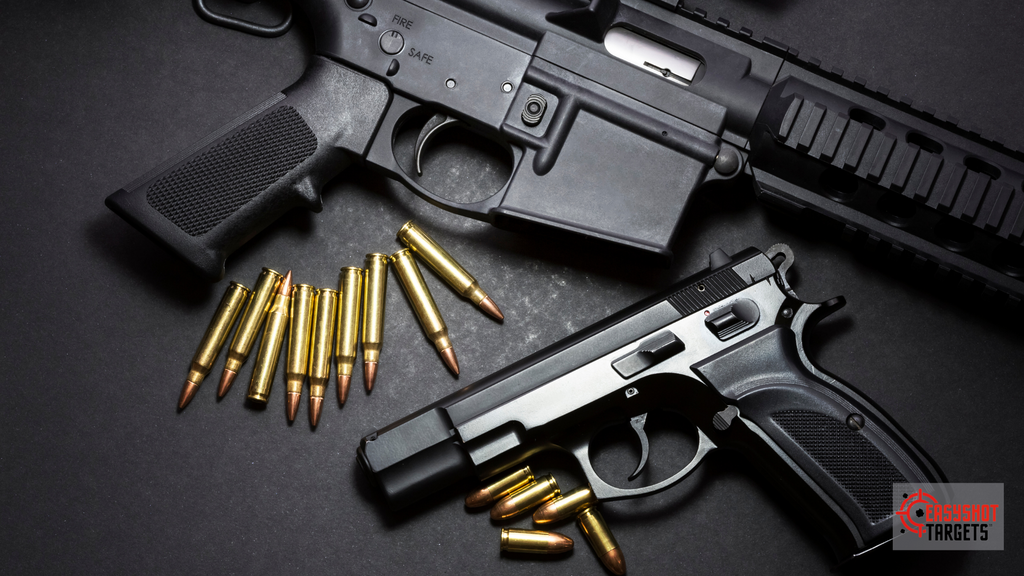 Going to a shooting range and firing a few rounds is a popular pastime for many individuals. The majority of individuals are unaware of the many sorts of guns they are firing and how they differ from one another.
Pistols, revolvers, shotguns, rifles, and machine guns are the most popular types of weapons. Each of these categories has its own set of characteristics that make it ideal for specific activities.
Continue reading to learn more about the basic types of weapons, their subtypes, and what distinguishes each one.
Pistols
Credit: Lynette "Squeaky" Fromm
Handguns that do not have spinning cylinders are known as pistols. Despite the existence of single-shot pistols, the majority of pistols today are semi-automatic handguns that load ammunition from a removable magazine situated in the grip. Unlike revolvers, which can only hold six or seven bullets in a magazine, modern pistols can hold up to 17 rounds. The Glock 17 and the Army's new M17 Modular Handgun System, often known as the Sig P320, are two examples. Concealed carry pistols are popular because they are small enough to be shot with just one hand.
Revolvers
Credit: Brittanica
Because of one distinct feature, revolvers vary from handguns. They have a cylinder with numerous chambers that hold ammunition individually and rotate with each gun barrel. The bullet will then be aligned with the gun's barrel. This gun can fire a number of calibers (the size of the bullet's diameter), which adds to the variety. They may be used with one hand as well.
Machine Guns
Credit: MathKnight and Zachi Evenor
A machine gun is a small caliber automatic weapon capable of sustained rapid fire. The majority of machine guns are belt-fed weapons that fire 500 to 1,000 rounds per minute and will keep firing as long as the trigger is pressed back or the ammo supply is depleted. The machine gun was invented in the late 1800s and has had a significant impact on modern combat.
Modern machine guns can be divided into three categories.
1. Light Machine Gun
The light machine gun, also called the squad automatic weapon, is equipped with a bipod. It usually comes with a box magazine and is chambered for the small-caliber.
2. Medium Machine Gun
The medium machine gun, also known as the general-purpose machine gun, is a belt-fed machine gun that fires full-power rifle ammunition and is mounted on a bipod or tripod.
3. Heavy Machine Gun
The heavy machine gun is mounted on a tripod. Since 1945, the word has been used to describe an automatic weapon that fires ammunition that is larger than that used in standard combat rifles; the most common caliber is.50 inch (12.7 mm).
Rifles
Credit: RenseNBM
Since its inception in the early 1700s, the rifle has been one of the most reliable pieces of armament for self-defense. Cannons and muskets, or some variation of the two, were the only weapons that could shoot projectiles before the rifle.
The following are the different types of rifles:
1. Lever-Action Rifles
One of the early designs connected with rifles was the lever action. A cartridge is taken from the tube running along the barrel and put into the chamber to be fired using a handle situated behind the trigger. These rifles are noted for being less accurate and being heavier than other types. However, they usually have a large cartridge capacity, which can be useful in a variety of situations.
2. Bolt-Action Rifles
A short metal grip protrudes from the right side of the weapon, immediately behind the chamber, on bolt-action rifles. The user may eject a spent cartridge, load a new round from the magazine, and close the chamber for discharge with a single upward, backward, and forward action. Because of its ease of use, durability, and precision, this type of action is one of the most extensively produced in the world.
Bolt-action rifles, like other types of rifles, employ a built-in or external magazine to house the cartridges.
3. Semi-Automatic Rifles
Semi-automatic rifles are a relatively new invention that has grown in popularity among sport shooters and marksmen all over the world. A semi-automatic rifle's action only needs to be moved into a firing position once. With each pull and release of the trigger, the action will automatically discharge the old round and reload a new one.
Semi-automatic rifles may be fired faster than other types of rifles in many instances, allowing them to shoot more bullets per minute. However, they are prone to mechanism breakdowns, which might be difficult to repair manually due to their autonomous design.
4. Pump-Action Rifles
Pump-action systems can be found in a number of rifle designs, though they are most commonly associated with shotguns. This action uses a slide mechanism constructed around the barrel to simultaneously eject an old cartridge and load a fresh one. One of the key advantages of this action is that it is operated with the supporting hand rather than the trigger hand, resulting in greater fire rates and improved accuracy.
Pump-action rifles, like lever-action rifles, frequently use tube magazines, which are hard to load since the operator must insert cartridges one at a time.
5. Break-Action Rifles
Single-shot rifles and shotguns commonly use the break-action (also known as hinge-action) design. The barrels of this action design are hinged and open like a door to allow loading and unloading of the cartridges.
Shotguns
Credit: Виктор Вихарев Марков
This weapon, like the rifle, is designed to be fired from the shoulder and has a long barrel. The shotgun, on the other hand, has a smooth bore with thinner walls or its own rifled bore, whereas the rifle has a rifled bore. Because there is less pressure here, the smooth bore decreases friction, and thicker walls aren't required.
Shotguns are unique in that, unlike a rifle or pistol, which can only fire one projectile, a shotgun can shoot numerous projectiles called 'shots.' As it leaves the gun, the shot bursts and spreads out.
In Conclusion
As you can see, though there are different types of guns out there, the type of action the gun uses is by far one of the best ways to tell them apart. In the end, the rifle you want is the one that fits your needs and which you can fire both comfortably and accurately.