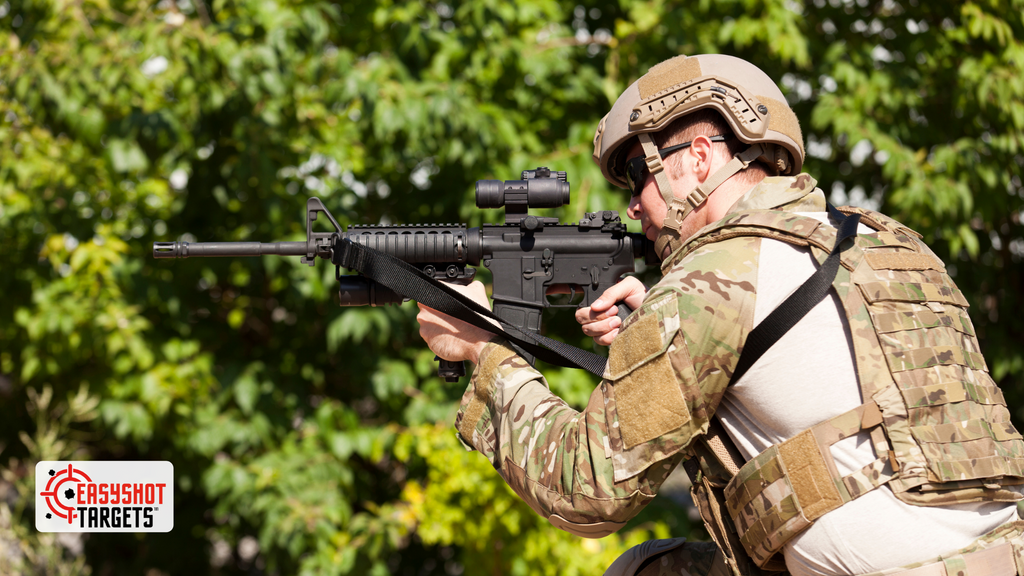 When it comes to firearms and shooting accuracy, sighting systems play a crucial role. One popular option that has gained popularity among both experienced marksmen and beginners is the ghost ring sight.
In this blog, we'll dive into what ghost ring sights are and explore how they should be used to enhance your shooting accuracy and overall firearm handling.
What Are Iron Sights?

Credit: Envato Elements/ Asphotostudio
Before we talk about ghost ring sights, let's understand what iron sights are, since ghost ring sights are a type of them.
Iron sights are a critical component of firearms used for accurate aiming. They consist of two metal markers positioned above the gun's barrel: a rear sight closer to the shooter's eye and a front sight near the muzzle. While some basic iron sights are fixed and can't be adjusted, many modern ones can be fine-tuned for better accuracy by changing the elevation or windage. Typically, it's the rear sights that can be adjusted.
What Are Ghost Ring Sights?

Credit: Envato Elements/ shotprime
Ghost ring sights, also known as peep sights or aperture sights, are a type of iron sight that many shooters find to be the quickest and simplest to use. They offer reasonably good accuracy and provide a clear view of the target, making them popular on riot and battle shotguns, modified pistols, and even as backup sights for rifles. They come in various sizes and can be used on a wide range of firearms.
If you're looking to acquire your target rapidly, ghost ring sights are a great choice. They excel at close-range shooting, offering quick target acquisition. However, it's important to note that they're not the best option for long-distance shots. So, if your shooting adventure involves short distances, go ahead and use a ghost ring sight, but for long-range shooting, you might want to consider other sight options.
What Are Ghost Sights Used For?
As mentioned before, ghost ring sights are designed for faster and more accurate shooting, especially in close combat situations. They are particularly useful for shotguns, rifles, and short-range shooting.
These sights have a thin ring shape that helps you quickly align your target. When you look down the barrel, the ring becomes slightly blurry, but it still lines up with the front sight. This allows you to acquire your target faster and focus on getting your aim right.
How To Use a Ghost Ring Sight?
Ghost ring sights can significantly improve your shooting accuracy when used correctly. Here's a step-by-step guide on how to use them: 
1) Maintain Adequate Firearms Control
Place your finger on the trigger and press the gun's stock against your shoulder. Hold the rifle with your other hand where the gun's stock and barrel meet.
2) Look Through the Ring
Look through the circle-shaped opening of the ghost ring. This step is crucial. Observe the front sight and the target through the ring and down the barrel. Align the front sight post with the precise spot on the target that you intend to hit, and then proceed to shoot.
How to Maintain Your Ghost Ring Sights
Proper maintenance is essential to ensure your ghost ring pistol sights continue to perform optimally. Follow these steps to keep your sights in excellent condition:
Step 1: Regular Cleaning
After each shooting session, clean your ghost ring sights along with the rest of your firearm. Use a cleaning solution and a soft brush or cloth to remove dirt, residue, and debris. Pay special attention to the front and rear sights, ensuring they remain clear and unobstructed.
Step 2: Inspection
Periodically inspect your ghost ring sights for any signs of damage, such as cracks, chips, or loose parts. Check the alignment of the sights to make sure they are still properly centered.
Step 3: Lubrication
Apply a small amount of lubricant to the moving parts of your ghost ring sights. Be careful not to over-lubricate, as excess oil can attract dirt and dust.
Step 4: Protection
When not in use, protect your ghost ring sights from potential damage by using a fitted cover or case for your firearm. This helps prevent accidental bumps or scratches.
The Best Ghost Ring Sights 
The Willian Fire Sight is a versatile ghost sight set that's considered universal. It comes with a clamp-on attachment and a red optic fiber. The rear sight is adjustable for windage and elevation, while the front sight is fixed, both featuring fiber optic nodes. These nodes capture ambient light and make the red/green sight picture more visible. The only limitation is that it can only be mounted on shotguns with vent ribs. However, if you mainly use your shotgun during daylight hours, this could be a great choice for you.


The Ameriglo Ghost Ring Sight stands out as the favored choice for marksmen in search of an innovative alternative to conventional post-notch sight configurations. This design incorporates a rear sight with an aperture-style opening, featuring two tritium minidots, accompanied by a luminous tritium front sight that ensures swift acquisition of your target. The GL-125  variant features a sleek black finish and is compatible with a range of Glock models.


The XS Ghost Ring Sights offer enhanced visibility with a broad field of view, making them well-suited for hunting in dense foliage or forested terrains. These sights facilitate easy target acquisition by enabling your eye to effortlessly focus on the front sight while leaving the rear sight blurry. They are particularly well-matched for use on Marlin firearms.
Summary
We hope that we were able to answer your question on what a ghost ring sight is. We covered all of the basics in this post, as well as some of the best ghost ring sights on the market. Remember that ghost rings are designed for short-range shooting, not long-range shooting, and they let you acquire a target in less time than a conventional sight.
Are you ready to take your shooting accuracy to the next level? Pair your ghost ring sights with EasyShot Paper Shooting Targets for the ultimate training experience. Our targets are designed to help you refine your marksmanship skills and track your progress effortlessly. Shop with us today.