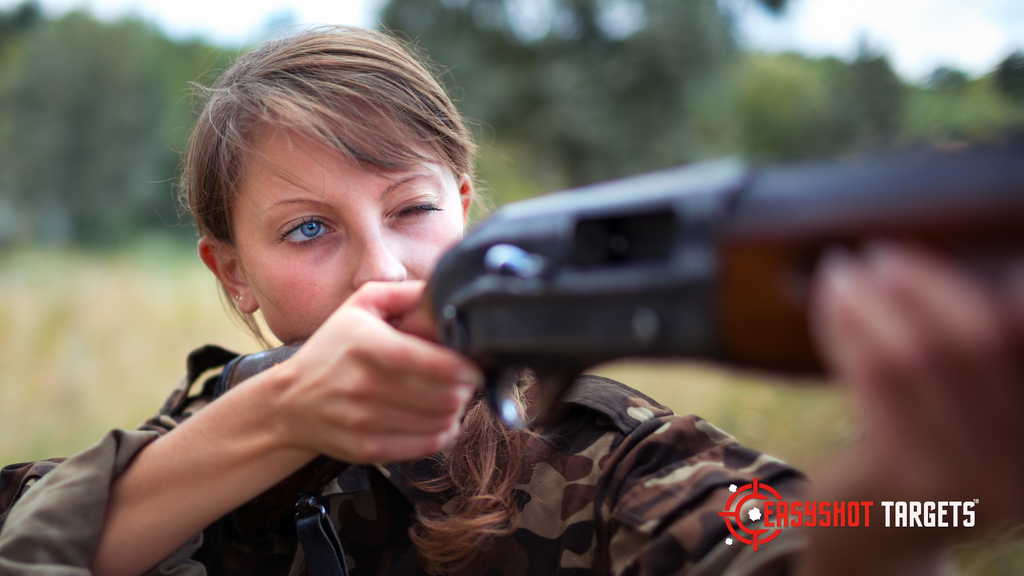 Shooting a shotgun is a skill that you can get better at with practice and the most effective way to do so is through skeet shooting. In this article, we'll discuss what skeet shooting is and how to get started.
What Is Skeet Shooting?
Credit: Envato Elements/ MargJohnsonVA
Skeet shooting is a sport that resembles bird hunting but doesn't involve any actual birds. In this sport, a participant fires a shotgun at clay targets that are mechanically propelled in the air from two different "houses" or "sheds" in an intersecting pattern.
The objective of skeet shooting is to hit the clay targets that cross each other. This is accomplished by setting up two target machines 40 meters apart (the high-house target machine or station and the low-house target machine). Additionally, the high house station is placed at a height of 10 feet, and the low house station is placed at a height of 3.5 feet. By the time the machines shooting the high target and low target reach the center of the field, the targets would have climbed to a maximum height of 15 feet.
Skeet shooting works by the shooter aiming at targets that are fired from the high house and then the low house. It is the ideal activity for honing your shooting skills since it calls for synchronization, fast thinking, focus, and quick reactions.
Types of Skeet Shooting
Credit: Envato Elements/ vlad_star
The two most common types of skeet shootings are American and international. In the American version, there is no break after the shooter calls for the targets. The American version also shoots its targets at a slower rate and in a different order than the international version. 
In international skeet shooting, there is a wait of 0 to 3 seconds after the shooter calls for the target. Because it uses the same format as the Olympic and International Shooting Sport Federation (ISSF) competitions, international skeet is frequently referred to as Olympic skeet.
What Firearm Is Ideal for Skeet Shooting?
Credit: Envato Elements/ Vailery
The most popular skeet gun used to shoot skeet is the shotgun. Shotguns come in a wide range of styles, so it's crucial to decide which one best suits your needs. Another factor that needs to be considered is the size of the shotgun. What works for your friend might not work for you. 
Is Skeet Shooting the Same As Trap Shooting?
Credit: Envato Elements/ vlad_star
Although skeet shooting and trap shooting are similar, they have some significant distinctions. In trap shooting, the shooter attempts to hit clay targets that are moving away from them. These targets are launched into the air at various angles using an oscillating device known as a "trap house" or "bunker." In this discipline, the shooters are aware of the target's origin but not its angle.
On the other hand, the main goal of skeet shooting is to hit two clay targets that are moving toward the shooter. Additionally, instead of using an oscillating machine, this sport uses a stationary one.
How to Get Started With Skeet Shooting
Credit: Envato Elements/ byrdyak
Skeet shooting is an enjoyable sport that plenty of people use to hone their shooting abilities. To get started with skeet shooting, use the tips below:
1) Examine the Fit of the Gun
The first step is to examine the fit of your gun. If your gun is the incorrect size, it could seriously hamper your ability to improve as a competitive shooter. Additionally, if your stock doesn't fit properly, you run the risk of getting punched in the face and dealing with a very uncomfortable hold.
2) Evaluate Your Stance
Your stance, a crucial element of your game, affects your mount, swing, and shot. To acquire the correct stance, lean forward and balance 60% of your weight on your front foot.
3) Mount Your Gun
The mount is an essential move that needs to be continuously practiced. To develop muscle memory for this movement, spend some time perfecting it away from the skeet shooting range.
To mount your gun, bring the gun butt to your cheek and place it in the natural pocket that forms where the shoulder and chest meet.
4) Have Patience
After mounting your weapon, take your time calling the shot. The targets will appear just above the shooting machines, so give your eyes enough time to adjust. You want to make a deliberate, fluid swing. The swing should continue after the shot is made, so pull the trigger without jerking or interrupting it.
5) Shoot With Both Eyes Open
Pulling the trigger while still having one eye open can be advantageous in certain shooting situations. However, with skeet shooting, it's important to fire your shotgun while keeping your eyes open since you need both of them to properly track targets that move so quickly.
6) Continue Practicing
Skeet shooting takes some time to master. The greatest approach to advance your skeet shooting skills is to practice at the range and train with experienced skeet shooters. Additionally, if you're planning to compete in the future, you can also sign up for the National Skeet Shooting Association.
Summary
Skeet shooting is a skill that takes time to develop, so have patience and don't give up.
Ready to give skeet shooting a shot? Before entering the skeet field, you can practice your shooting skills with EasyShot's shooting targets. Shop with us today.