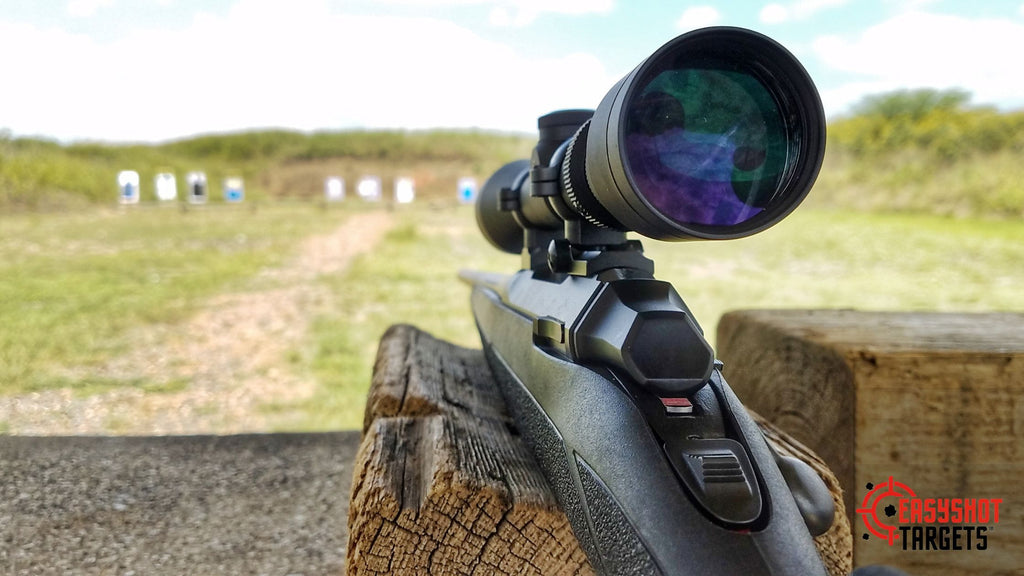 Whether you're a serious hunter, an amateur, or a competitive shooter, the targets you select can have a significant impact on your shooting skills and accuracy. In this blog, we'll explore a variety of shooting targets designed for use with rifles. We'll also provide valuable tips to help you pick the right rifle for your shooting needs.
Types of Targets That You Can Use for Rifle Shooting
As most people are aware, targets come in a variety of materials. The four most typical targets for rifle shooting are as follows:
1)  Paper Targets
Credit: EasyShot
Paper targets are the most basic and inexpensive targets. They might be as basic as a bull's eye or as complex as silhouettes or splatter. They can be used to test or correct accuracy with any kind of firearm, particularly a rifle and handgun. Additionally, they are the ideal tool for providing accurate feedback on the shot placement.
While there are many different types of paper targets, the EasyShot Silhouette Paper Targets are known for being robust and durable. They are available in a variety of fluorescent colors that improve visibility for both long- and short-range shooting. Alternatively, you can also go for the BIRCHWOOD CASEY Bull's-Eye Reactive Targets. 
2)  Steel Targets
Credit: Nassau Sportsmen's Club
Steel targets are known for their durability and longevity, making them a top choice for rifle and shotgun enthusiasts. In recent years, they have gained popularity, especially for shooting shotgun fire slugs. When properly cared for, many AR500 steel targets can endure for a lifetime, offering excellent value and long-lasting shooting fun.
Steel shooting targets are great for practice since they instantly provide you with auditory feedback when you hit them. Additionally, there are plenty of steel reactive targets available that not only make shooting more fun but also more difficult. A great choice to consider is the FULLBOW AR500 Steel Target Hangers or the Birchwood Casey Steel Spinner Targets. 
3)  Clay Targets
Credit: iStock
If you've ever fired a shotgun, you've probably practiced on clay targets. Aside from shotgun shooting, these reasonably priced and conveniently accessible targets can be used for other purposes as well. They can be shot with a rifle from a distance of more than 100 yards. They present a challenging target and also provide immediate visual feedback. If you're looking for reliable clay targets, the White Flyer Blackout Trap and Skeet Targets is a great option. 
4)  Polymer Targets
Credit: Range365
Polymer targets are superior to other items on the market in numerous ways. Depending on the model, company, kind of ammunition, and level of training, a target of this quality can be used for weeks or even months. Additionally, polymer targets are significantly lighter than steel targets, making it easier to set them up.
An excellent choice worth exploring is the Caldwell Duramax Targets. These targets have the remarkable capability of self-healing and are available in various shapes ranging from squares to spheres.
Tips To Keep in Mind When Selecting a Rifle for Target Shooting
Your choice of a rifle will determine whether or not you will have a successful shot at the rifle range. If you want to practice good marksmanship, you need to select the correct rifle. Be sure to keep the following advice in mind before purchasing a rifle for target shooting:
1)  Pick a Rifle with a Solid Frame
Credit: Envato Elements/ vladstar
Target shooting is becoming more and more well-liked as a fun and reasonably risk-free hobby. While some people prefer target shooting as a hobby, others use it to improve their hunting skills.
Before selecting a rifle for target shooting, make sure that it has a sturdy frame. The accuracy and recoil of the rifle will be influenced by its frame. If you have shooting experience, you might favor rifles with heavier frames. But if you're just starting out, get a sturdy yet lightweight frame.
2) Ensure the Grip on the Rifle Is Comfortable
Credit: Envato Elements/ twenty20photos
New shooters frequently make the error of selecting a weapon based solely on how it appears rather than first considering comfort. A rifle's grip and its trigger should always be examined before purchasing. A decent rifle will have a solid trigger and be simple to hold. 
3)  Select a Rifle Depending on Your Experience Level
Credit: Envato Elements/ cavanimages
Always go for a rifle that is simpler to operate and more comfortable if you're a beginner. Most shooters are willing to make this trade-off, even if it means sacrificing accuracy. After developing your skill set, you can test out some of the more sophisticated rifles.
Visit your local gun store and try out a few different models if you're not sure which rifle is best for you. To gain a feel for target shooting firearms before purchasing one, you can also go to a shooting range that offers equipment. The best rifles for target practice are ones that can fire a variety of rounds, have passed safety inspections, and have an accurate range of more than 200 yards.
4)  Make Sure the Rifle Is Reliable and Secure
Credit: Envato Elements/ Satura
Safety comes first when target shooting; accuracy comes second. Learn how to operate the safety features on your rifle, give it regular maintenance, and have a gunsmith look it over if you see anything unusual like a bullet lodged in the barrel.
Summary
The type of target that you choose will depend on what you are actually looking for. Every target has its strengths and weaknesses. If you're a beginner shooter, consider practicing on paper targets at an indoor range and if you're a more advanced shooter, consider practicing on steel or clay targets at an outdoor range.