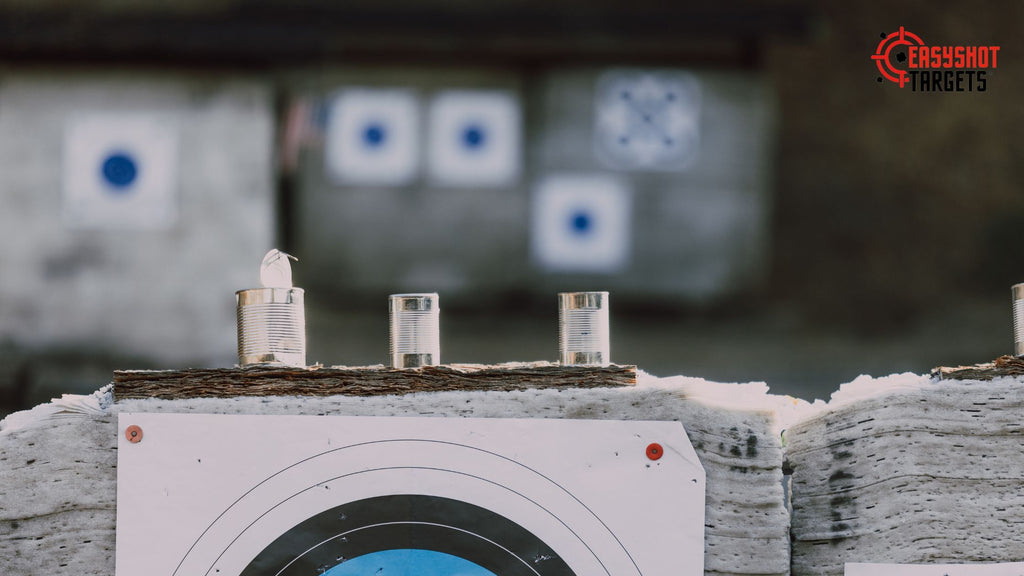 While range time might be fun, some people prefer to practice shooting at home. If you don't have any shooting targets on hand, you'll need to come up with a substitute. Below are some useful DIY targets you can use to make shooting at home more enjoyable.
DIY Shooting Targets
Having your own targets made from household objects is not only fun but also economical. Here are 8 DIY shooting targets to improve your shooting skills:
1) Tin Cans
Credit: Envato Elements/ kseniasol
Tin cans make excellent targets since they react to impact and let you know right away if you hit or miss. Put them in a straight line to practice speed and aim, or place them one at a time to improve accuracy. To create a more difficult target for shooting practice, you could even arrange them into a pyramid or hang them.
If you don't have any tin cans at home, you can always buy them in bulk on Amazon, such as the ones from AUTORIND. These are available in packs ranging from 12 to 50 cans. Depending on how you want to arrange them, choose the appropriate set.
2) Golf Balls
Credit: Envato Elements/ Thanineech
Do you have any unused golf balls laying around? Although golf is enjoyable, do you know what's better? Shooting at them. To make the shooting more difficult, hang the golf balls or place them on a golf tee. When employing the latter method, make sure that there is no wind.
3) Balloons
Credit: Envato Elements/ Olivija Photos
Balloons provide interesting shooting targets that are inexpensive and easy to make. They make great unexpected moving targets since they are light and will move with the wind. To make practice harder, draw marks on the balloons and try to aim at them.
While balloons are excellent for practicing precision shooting, if you plan to use them for an extended period, you should buy a portable air pump like the one from AGPTEK to save time. You can also use water balloons for added fun or consider buying specially designed water blast targets like the ones from GoSports Outdoor Shooting Range.
4) Old Campaign Signs and Lawn Signs
Credit: Envato Elements/ Mint_Images
You can also make shooting targets out of old campaign signs and lawn signs. All you need to do for this DIY shooting target is to paint the surface with your desired target design in mind.
This target calls for a little ingenuity, but there is a tonne of online resources you can use to paint your own target. Remember to wait until the paint is dry before shooting at it to avoid any paint spilling.
5) Old Tennis Balls
Credit: Envato Elements/ Rawpixel
Nothing surpasses an old tennis ball for practicing shooting. They are bright and fairly responsive to strikes. Better yet, you can keep firing at the same ball since they have a lengthy bullet absorption life.
6) Fruits and Vegetables
Credit: Envato Elements/ begemot_dn
Fruits and vegetables are usually enjoyable to aim at if you want a reactive target. You can use any fruit or vegetable including pumpkins, watermelons, apples, etc. To get varied outcomes, experiment with different calibers.
7) Milk Jugs
Credit: Envato Elements/ karandaev
Milk jars make excellent reactive targets, just like fruits. Set them out at a distance, spray-paint them in vibrant colors, and then shoot at them to watch the jug burst. 
If you're concerned about the scattering of glass shards, consider using similar alternatives like the Do-All Outdoors' Bottle Targets. Made from polyethylene, these targets are designed to withstand multiple rounds and offer a safer experience.
8) Bale of Hay With a Post-It Note
Credit: Envato Elements/ Bruce Alborough
A bale of hay is an excellent choice when looking for a sturdy backstop material that also functions as a homemade frame. Hay is a bundled-up plant material made of herbaceous plants. Since they already have a solid shape, all you need to do to shoot at them is attach a target, like a post-it note.
Items To Avoid When Using DIY Shooting Targets
Credit: iStock
Not everything in the house can be a target. When using DIY shooting targets, there are a few things you should avoid.
Avoid firing at non-target materials like glass, metal, concrete, pebbles, and targets that have sharp edges. All of these substances have the potential to cause the projectile's jacket or core material components to disintegrate and fly back at you or sideways into areas that you don't want them to. 
How To Build a DIY Target Stand
Credit: Instructables
While we're talking about DIY targets, it might be a good idea to make a DIY PVC target stand to hang your targets on. Making your own target stands is a fun hobby you can do away from the shooting range and it can save you money. You can use this PVC stand to hang steel targets, a steel plate, paper targets, or your own DIY targets.
For this DIY target stand, you will need eight pieces of black ABS pipe measuring 1.5 by 24 inches. You can either get this size precut, or you can purchase a long piece of pipe and cut it yourself. You will then need two black ABS connector "tees" to support the parts of the vertical pipe that support the target. Additionally, you will require four black ABS "elbows" to join the base's corners to make the square.  Last but not least, you'll need two 58-inch-long hardwood furring strips.
You can find all these items at your local hardware store. Once everything is put together, hang your targets, and you are ready to go. For a ready made option, consider going for the Caldwell Ultimate Target Stand.
Summary
DIY shooting targets make range time more fun. You don't need to spend a lot of money on DIY targets. You can create your own DIY projects using some common household products. If you don't have the time to put together your own shooting targets, you can shop at EasyShot shooting targets.