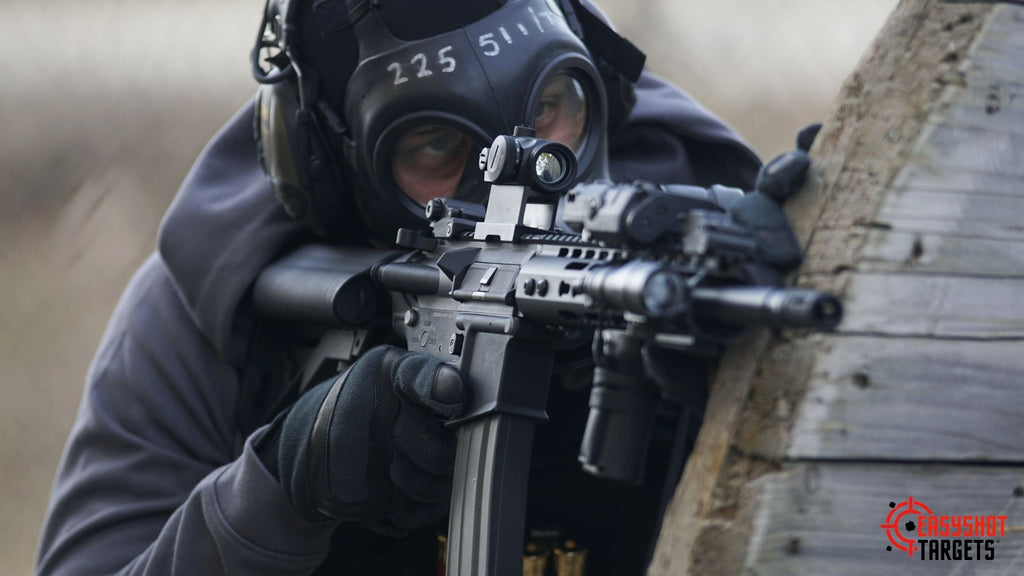 Summer is here, and we're heading to the range. Not sure which gear you'll need this season? We've done all the research, bringing you a list of the top rated accessories every gun enthusiast needs to shoot, clean and store in style.
Finding the right storage system for your firearms can be tricky. From customized storage drawers and overhead gun racks to dash mount holsters- there are suitable options for every collection based on quantity and size. Our favorite is the Seat Back Gun Rack Sling, known for its durability and seamless installation. Made with top quality nylon, simply place the loops over the headrest of your SUV, pickup, or minivan and connect the security cables to the seat frames. Instantly, with no tools required, you have a secure and accessible long gun organizer which folds up nice and compact. 
Kids at home? Worried about safety or your second amendment rights? Constructed with multilayered solid steel, pry resistant doors and anti corrosive powder finish, your handguns and personal documents will be sealed snug for years to come. The safe boasts a backlit password keypad, multi fingerprint scanner and spare key for maximum security options. The device also comes with internal safety brackets, built in hinges and pre-drilled holes and hardware for floor mounting. An LED keypad and silent mode are bonus features allowing for quick and easy nighttime access with minimal disturbance. The safe can easily fit two handguns or 1 handgun with magazines. Models specifically for vehicle use can be purchased and attached to the seat frame.
If you're a standard size hand gun owner, prepare to be amazed by this powerful little device, designed exclusively for full size, compact or subcompact flat tops. Made with a powerful magnetic chip and anti scratch coating, you can draw and release your handgun at top speed without worrying about scratching the exterior. The magnet is easily mounted on any flat surface- the wall, vehicle, doorway, or office desk and won't interfere with other electronics devices. Budget friendly, small and strong, the mount can hold anywhere between 15 and 45 lbs with a super tight grip. First ensure your device is compatible, then say goodbye to falling or moving firearms- no matter how bumpy the ride.
Whether you're on the range or in the field, blocking out distracting sounds while maintaining full awareness of your surroundings is key for safety and precision. These adjustable headphones feature padded, snap in ear cushions and a telescopic fit for a comfortable, non slip fit. Sophisticated air flow technology provides crystal clear amplification for sounds up to 82 db while filtering out unnecessary noises above the optimal range. These well designed muffs have 300+ hours of battery life with an auto shut-off feature for maximal use. The kit contains an AUX cord, allowing your muffs to double as headphones when used with any compatible audio device or smartphone.  Hear and communicate range commands, identify sound locations and protect your ears for an optimal and safe shooting experience.
No matter if you're a beginner or long time professional, take your aim to the next level with a laser mount flashlight. This compact, sleek powerhouse is made with aerospace aluminum and can reach wavelengths of up to 532 nm. Providing visibility of 100-300 feet during the day and up to 1000 feet at night, the sharp, green laser can improve target accuracy with any lighting and from any position. The light secures onto a barrel clamp and comes with an 8 figure hold mount to attach your accessories. The mount has an easily accessible on/off button and remote control option and adjustable knobs for changes in elevation and winds. The laser boasts a strong glass lens, long battery life and works well at any temperature. For incredibly sharp, clear and bright light, this laser is the way to go.
How you treat your firearms determines how long and how well they'll perform. With use, grime gas and residue builds up inside and on the barrel. Without regular care, your firearms will deliver with less accuracy. A large cleaning mat, such as a 12x36 will be large enough to accommodate a standard rifle. Most products are anti-slip, pressure resistant and marked with clear, easy to follow graphic diagrams. Thick and durable, these mats are made with a protective layer that is both water and oil proof, easily wiped clean with a rag. Priced at $20, cleaning mats are a great solution for keeping your guns sharp and performing their best.
If you own multiple firearms, you need an overwhelming amount of accessories. The Gloryfire Universal Kit is the #1 bestseller on Amazon and for good reason. This portable and compact case includes accessories for caliber rifles, shot guns, pistols and muzzle loaders. The cleaning jags and tips are made with high quality nylon plastic, an advantage over other cheaply made brands.  The kit includes brass rods for high and low caliber rifles, brushes, mops, assorted jags and slotted patch loops, utility brushes, muzzle guards, cleaning patches, polishing cloths and accessory adapters. With an additional compartment for oil and solvent, a solid case will keep all your accessories neatly in one place. A perfect gift for yourself or loved ones.
Traditional belt holsters can get sweaty and uncomfortable in hot weather. The Blue Force Double Pistol Pouch is made of a comfortable stretch material that adapts to your body shape and wicks moisture to help you stay cool. The pouch is lined with adjustable velcro belt straps and two pockets to easily store and conceal your gun, laser, and double stack magazines. You might be surprised by how much you can stuff in there.
This 1 pint powerhouse has been the most effective cleaner on the market since 1903. It's strong, non hazardous formula penetrates hard to reach places and loosens debris and rust, while preventing carbon and lead buildup in the barrels which can damage performance over time. Hoppe's is available in sizes ranging from 2 oz for three bucks to a gallon for 85. With a child proof cap and good smell to boot, Hoppe's is pretty much all you need to give your firearms a quick deep clean and a whole lotta love.
Featured Photo by

 

Specna Arms

 

from

 

Pexels
With an OSHA and ANSI Z 87.1 safety approval rating, the Advanced Saber line offers maximum clarity and protection from high mass/velocity impacts. The frame is lightweight, with a flexible nose piece and foam inserts to comfortably interchange lenses. Compatible with any prescription, the lenses are made with a scratch resistant shell coating and advanced technology to filter out harmful UV and HEV lights. Priced between $45 and 70, these unique glasses offer comfort, safety and crystal clear visibility in any environment.